Add to Cart
2006 2010 Aprilia Tuono Factory Clear LED Taillights Do
Item Description

MOTO-TUNING is here to offer you one-of-a-kind, rare, discontinued and hard to find bike upgrades. We thank you for turning to us with your cycle needs and hope we can be of help with your search.
PRODUCT DESCRIPTION
DOT APPROVED - STREET LEGAL !
- NOT just another "SHOW / RACE ONLY" taillight !!!
APRILIA TUONO & TUONO FACTORY CLEAR LED TAILLIGHT
WITH SET OF TWO CLEAR REAR TURN SIGNAL LENSES
Gorgeous CLEAR MULTI LED tail light with 2 smoked rear turn signal lenses.

This unit will give you ALL your current functions PLUS bright LED license plate light.

Perfect Quality unit - Will not fog up or accumulate moisture.

Top Quality -

DOT certified

to the highest US standard - 100% Street Legal

Can be installed by anyone comfortable with basic tools and Power understanding.

Picture shown is the actual item you will receive - Brand New & Perfect in every way!

Very nice, BRIGHT and therefore - SAFE upgrade for your rear lighting!

Will fit: APRILIA TUONO 2006 - 2011 - TAILLIGHT + REAR LENSES
APRILIA TUONO FACTORY 2006 - 2011 - TAILLIGHT + REAR LENSES
SET INCLUDED: ONE CLEAR TAILLIGHT & 2 SMOKED REAR TURN SIGNAL LENSES TO MATCH THIS TAILLIGHT
1 YEAR MANUFACTURER WARRANTY !!!
MT-326LEDSW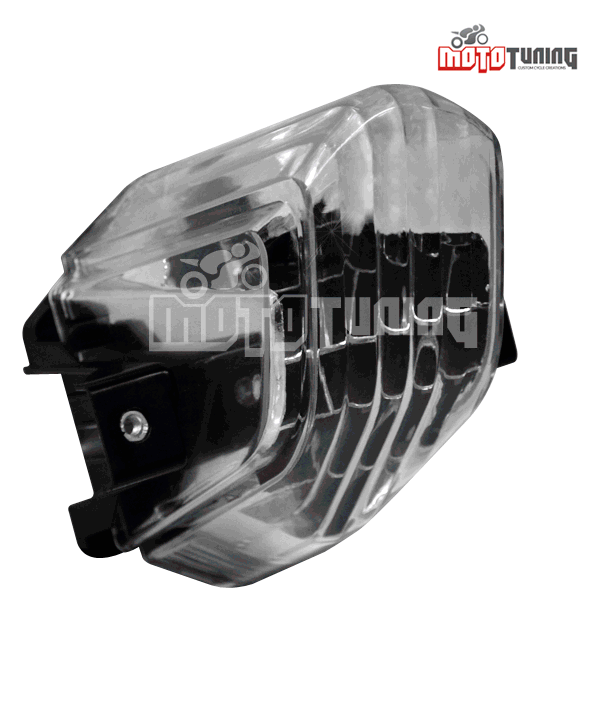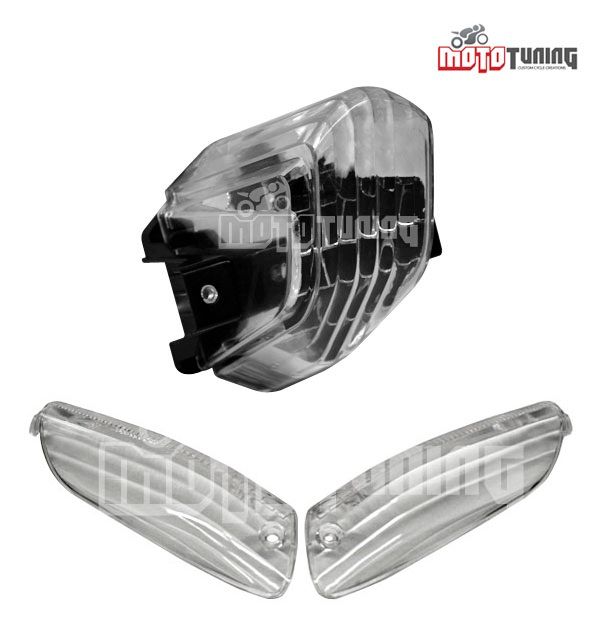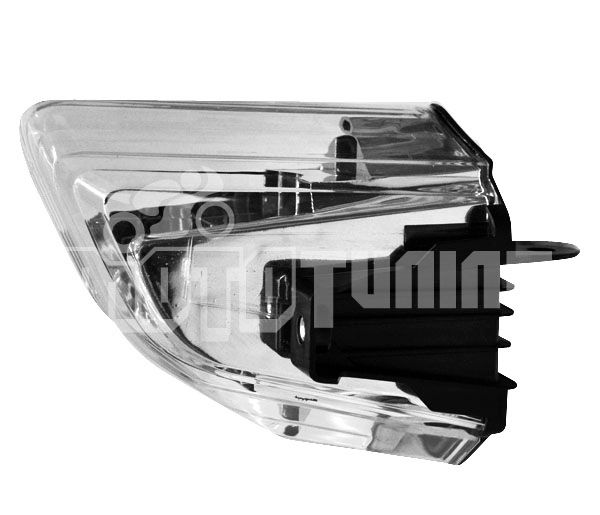 PAYMENT OPTION
Available Payment options are PAYPAL or a Direct Credit Card Payment at (781) 209-0546
TRANSIT TIME & SHIPPING INFO

USA = 1 - 3 Business Days
PR, HI, AK = 1 - 3 Business Days
Canada = 3 - 7 Business Days
UK = 3 - 7 Business Days
Worldwide = 5 - 15 Business Days
ATTENTION! SHIPPING TIME TO THE FOLLOWING SPECIFIC COUNTRIES:
Israel = 10 - 15 Business Days
Italy = 15 - 45 Business Days
Brazil = 15 - 45 Business Days
We use services of USPS, FedEx and UPS depending on where the item is going and when the order takes place. This is done to insure fastest delivery of the product to your location. All orders completed by 3pm EST ship same day if at all possible. Expected delivery time as noted in table above.
COMPANY INFO
MOTO-TUNING will assist you with any questions you might have about any of our products either by "contact seller" link above or by phone at (781) 209-0546
We will be adding new products to our catalogue weekly so please check back soon for new items.
We appreciate your business greatly - thanks very much for giving us an opportunity to serve you!
TERMS AND CONDITIONS
We are sincerely sorry this paragraph has to exist - we will keep it as short as we can:
If you can not make the payment or contact us within 3 Business Days of the Auction Closing time - please get in touch with us at the above listed Telephone Number or just Email us and let us know your plans of completing the transaction.
We are NOT here to waste anyone's time or money - Therefore - Please Do NOT Waste Ours!!
If you are not sure you can afford the product at this time but really want it etc... - Just get in touch with us and we might be able to hold it for you and run another auction at a later time when you are ready.
All products we sell have manufacturers warranty and are guaranteed to arrive in Top Shape!
We will honor Exchanges and/or returns in REASONABLE CIRCUMSTANCES!!!
Recent Reviews
Recent Questions & Answers
What is your best price for this item?
Answer:
The lowest price I accepted including shipping
$100.00
Buy Now
2006 2010 Aprilia Tuono Factory Clear LED Taillights Do