Item Description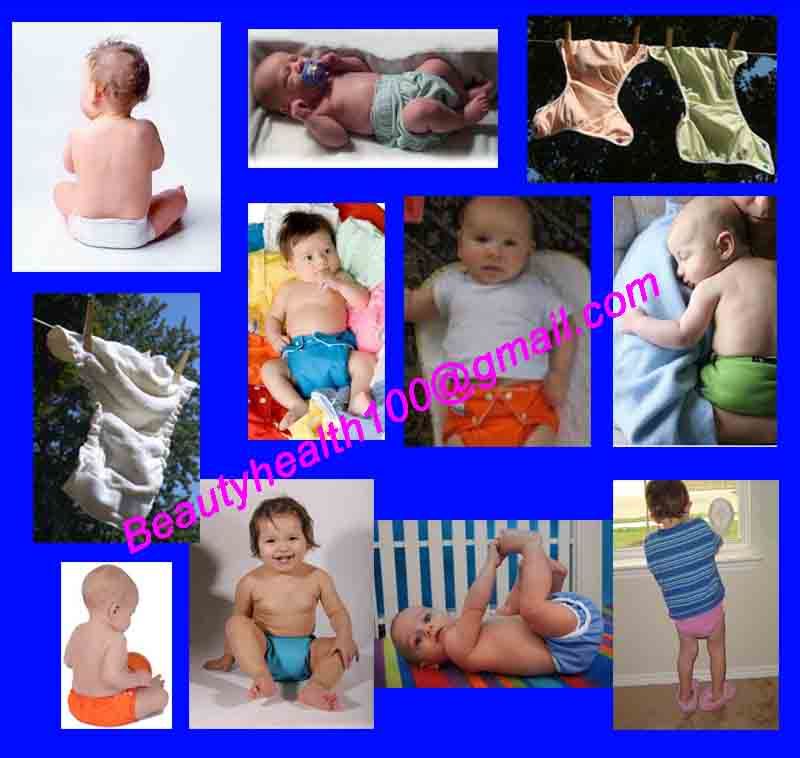 Our baby is growing, just like a tree ... ...
We select the best products to create a good enviroment to
let them grow safety
20 pcs colorful cloth diapers + 20 inserts
 One Size AIO Cloth Diapers Nappy pocket diaper covers with Insert
 
 
 
 
You can select according to your need from this picture, then send 
 quantity of each style NO. to  Email .
Otherwise, we will send to you at free.
 
     How many diapers will I need?
         First of all you need to determine how often you will be doing laundry.
       With that in mind, here are some reasonable estimates about cloth diapers you will need:
         Newborn to 4 months - 20 - 24 diapers
         Infant (4 to 10 months) - 16 - 20 diapers
         Toddler (10 months to potty training) - 12 - 16 diapers
       Please note quantities are based on an average sized baby and if you wash every other day. More diapers will be needed if you go longer between washings.
Item Desc
ription
One Size Cloth Diapers are:

Waterproof Outer layer is made from PUL (Polyurethane Laminate)

Inner layer of custom micro fleece that keeps baby dry

Super absorbent 3 layer Microfiber Inserts (also called Soaker)

Available in 10 color :

Blue, light Green, Blue, Red, Yellow, Orange, Bubble Gum, Apple Green, Aqu Blue, White.

Choose your color from picture, tell us the quantity of Style NO.

Unique design of 3*3 snaps to adjust the size

Fit baby weight from 3 kg to 13 kg (approximately 3 YO before potty train)

Suitable to be used during night time (approximately 10pm - 7 am) with 2 inserts. But it may varies to your baby's frequency of urination.
Note


Prolonged contact of microfiber insert with baby's bottom may cause dryness due to super absorbency of the material.
Do make sure to put the microfiber Insert/Soaker inside the Pocket Pants to ensure the only thing to touch the baby legs is the soft micro fleece on the inside OR if you prefer to use as a lay on top soaker, then please use a nappy liner on top of it.
 

Washing Guide:

Wash diapers prior to first use to remove residues left behind from fabric manufacture.

It is advise to wash it at least once it hot water with no detergent.

Remove any solid and flush down the toilet before washing.

Do not use bleach or fabric softeners because it might break down the fiber and reduce the life expectancy of the diapers.

Line dry in the hot sun or in the dryer on medium heat.

Do not iron or dry clean.

Use laundry bag to wash your Cloth Diaper.
         CHANGE TO CLOTH DIAPERS ...
          its good for your baby, good for the environment!  
Why Choose Cloth Diapers?
      Cloth diapers have changed considerably over the years, and offer many benefits to parents of newborns:
      Healthier
      Disposables have lots of chemicals which have been associated with many physical problems. Diaper rash also increases with disposable diaper use due to allergies to chemicals, poor air flow and longer time spent in wet diapers which feel dry.
      Be nefits the environment
     Cloth diapers are reusable. Quality cloth diapers will hold up for many washings and can be saved for the next child. Although energy is req uired for washing the diapers, it is a fraction of the energy used for disposables. Cloth diapers are also recyclable, making excellent cotton rags in their 'afterlife'.
        Less expensive
       Many studies have compared the costs of disposables diapers versus cloth washed at home, and cloth diapers provided by commercial diaper services. Results vary, but most agree that the cost of cloth diapers, home laundered, is considerably lower than buying disposables. Estimates range from $800 - $2000 in savings over the 3 years, and over 6000 diaper changes. Using a commercial diaper service, depending on which study you consult, is either comparable to, or a little less expensive, than using disposables. Check out your potential savings with this nifty calculator.
       Easy to use!
       Whether you're using a prefold or fitted with cover to a pocket with insert, or an All in One diaper, they're easy to use. Once baby has soiled the diaper, you simply put it in a dry diaper pail or a hanging bag. For an older baby or toddler eating solids, you can shake loose poo into the toilet, and put the rest into your pail or bag. Once it's time to do laundry, just dump the contents of the pail or empty the bag out into the wash, in the case of the bag, turn it inside out and throw it in as well. I suggest doing a cold prewash to get rid of the urine & small solid bits. If you like, you can even put some tea tree oil or lavender in the prewash. Then just do a normal hot or warm/cold wash cycle (and a 2nd rinse) with less than usual detergent. Once the wash is done, you can dry most or all diapers hanging or in the dryer, whichever you choose. It's that easy!  
      Note: Thanks to Diaper Pin for the nifty calculator listed above.
 
Item Specificationon
  

    We are factory to do OEM, you only provide your Brand LOGO.
          MOQ is 1000 pcs, contact us
  net weight (including one inserts.)   0.100kg / pcs         
 
Payment
 
Shipping & Insurance
 

Country

Shipping Method

 Shipping & Handling Fee

Insurance (Optional)

USA / Canada

EMS

5-7 business days

FREE    
US$ 2

UK / France / Sweden / Norway / Denmark /

Belgium

Australia / New Zealand

 

Your phone No. and confirmed address is important for shipping quickly.  
       Our Feedback is reciprocal, and in kind. For the buyer who is not satisfied with their purchase from us,  contact us before you leave feedback, and we will see if we can reach a mutually satisfactory solution. 
                     Email: 
We are looking for our

agency

all over the world.

Buy More and Save More ï¼

 Ebay ID BeautyHealth100  Focus on Beauty & Health Product.

Have a good day / nightï¼