Item Description
18" Artificial Fibre Mix Clip on 6"Wide 
Price is for One piece Pre-sewn clip .It can be used to add length or highlights/streaks.Very easy to attach and take out without damaging your natural hair.
Hair is Heat- Resistant Fibre that is also Flame -Retardent.
Set Electric curling tong temperature on 130-180 C or H on High, Med, low Scale. Stove professional Irons are not recommended.You can straighten with ceramic Iron.
When tonging hold for 20-30 seconds.After removing the hair off the tong ,hold the curl shape in your hand (10-30 secs) until it cools.
Quad weft - two double wefts  together        
 clips with silicone back already added to hair piece
Colour : Champagne on Blonde
Width : 6"
Length : 18 inches
Quantity : 1pc
Style :  Artificial fibre Mix
Auction is for one piece but you can buy as many as you like.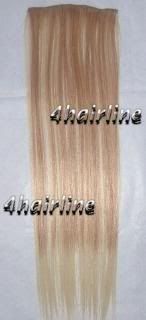 How To Attach Your Clip Hair
1) Start at the back row/track by parting temple to temple horizontally. Clip the rest of the hair above the parting up out of the way. You can now put your clip hair on by holding both ends of the clip with both thumbs on each side. Snap clip back so the middle section comes towards you.
2) Attach the middle clip of the extension first to the middle section of your parting. Snap clip inwards so as to close it in place. After that, hold the clip firmly with one hand and with the other hand clip the front corner section of the parting. Repeat this method for the other side. The clip hair is now secure.
3) Now repeat these same steps using as many sections as you wish till you achieve the amount of volume desired.
4) Now comb your own hair down over the clip hair to cover it.
How To Remove Your Clip Hair
Open the clip by gently pulling backwards until you hear the clip release. Then gently remove the section of the clip hair extension from your hair.
Care Instructions
You do not need to wash them very often unless you have used hair styling products. If you need to wash them, use lukewarm water and air dry .
Pls check  ! in my store for other colours.Thnx                      
---


 

 

 


Powered by
---
On 15-Oct-09 at 15:08:45 BST, seller added the following information: