Add to Cart
PRIMER HONDA VTX 1800 1300 SHADOW MAGNA VALKYRIE TRUNK
Free Shipping
$114.00
Shipping Included
Buy with Confidence
Accepted Secure Payment Options
Need help buying?
Item Description
New Improved Large top racks are here.
* Made of Stainless Steel no rust issue*
*Polished to Mirror finish*
*No holes on the rack so water won't leak inside*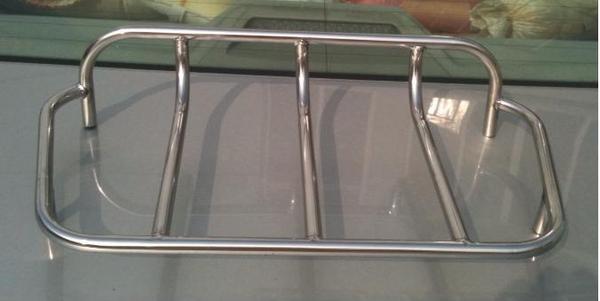 Older style large top rack (see below) has holes on top so water can leak to inside of the rack, which cause the rack to rust from inside.
New improved large top rack will be here on Feb 5th.

Following is a detail price list:

The price for a black color trunk with standard upper and lower backrest pads is $95. (prices are different depending on the color; Silver or Primer trunk special price at $89, custom colors are more expensive. See my other auctions for detail information or email me if you need a price quote)

Price for a trunk with new improved large top rack is $95 + $45 + $30 shipping fee. 

Price for a trunk with wrap around backrest and arm rest is $95 + $55 + $30 shipping fee.

Price for a trunk with wrap around backrest and new improved large top rack is $95 + $55 + $45 + $30 = $224 (Special package deal price for all three items is $199 including shipping fee.)
PRIMERED TRUNKS ARE HERE
Many customers ask us for primered trunk because they like the quality of our trunk and they want to custom paint the trunk to match the color of their bike,  so we have factory custom made some trunks only with primer paint and Water Proof gasket not glue on because you will likely  damage the gasket when you remove it from a painted trunk. We provide a gasket that is not installed so you can glue it on after you painted the trunk.
We also provide easy remove hardware so you can remove before painting unlike other trunks that use dead bolt so the hardware are very hard to remove.
For a limited time, You can get a primered trunk for only $89. Lowest Price on Ebay.  
Why pay more for already painted trunk to repaint. You will take more steps to sand then primer and paint, which cost you more money and time.
We have some painted trunk in stock: Gloss Black,  Pearl White, Candy apple red, Fire engine red and Silver. 
For Harley custom color, we have Vivid black, Cobalt blue,  Black Pearl, Pacific blue and Black Denim.
No sanding, No need Primer ready to paint.
*****************************
*           Package Deal         *
*****************************
We have been selling these trunks on EBay for over 6 years. In fact, we are the first one selling these on EBay. Other copycats keep copy our product but they are always one step behind with the upgrades. See following picutures of the upgrades we make with our tour pack trunk. After several years, people still coming back to us for parts and accessories.
Our product is better, less price and has more features.
New feature available:
Wrap around backrest $55.
For a limited time, we are offering a package deal: Shipping fee for package deal in continental US is $30
We are the only seller carries Tour Paks made without recycle material (Please see the interior of the trunk. Products made with recycle material are always in black color so it is easier to mix with dirty recycle material.) We don't use any recycle material so our product is stronger and long lasting than anyone else.   Many of our customers use our product to customize their HD motorcycles. Please see attached picture of  Harley Motorcycle in yellow color.
Changeable lock set. -- We upgrade the lock on this trunk to make it very easy to change (only takes five minutes of your time to remove five screws from inside the trunk.) Other Tour Pak requires drilling in order to remove the latch. Keep a spare set of lock in case you want to change it or in case you lost your keys. 
Two restrainer wires. ( Both sides will

 

open evenly which help reduce stress on hinges) 
Free lower backrest $20 value installed. We are the first added this lower backrest feature.  Other copy cats starting to put lower backrest on their tour paks.  
All of our Vivid Black tour-paks came with Double backrest installed.($20 value,) more comfortable, stronger support and looks better (no empty space in between.)
Note: All tour paks made by Harley Davidson come with double backrest for SUPPORT, COMFORT and APPEARANCE not just for "decoration"
Our backrests have a layer of hard plastic (1/4 inch thick) and strengthen by six screws to provide STRONGER back support. 
Feedback from a happy customer " THE LOWER BACK REST CAME IN THIS MORNINGS MAIL AND TOOK ONLY 10 MINUTES TO INSTALL.  
IT SURE IMPROVES THE OVERALL APPEARANCE OF THE TRUNK PAK BY COVERING THE BARE BLACK PLASTIC AREA BELOW THE UPPER BACK REST. THANK YOU VERY MUCH!"
Optinal features:
Antena --- Additional $20 (Mounting hole is predrill) You can put your own antena at the same location.
Spare lock set --- additional $25
Top Rack --- Additional $45
Note: holes are not predrill. We provide the mounting hardware.
Speaker Feature --- Additional $30.
 Note: Speaker feature came with the trunk. You can't add this feature later.
Lower Backrest --- If you own a tour-pak without lower backrest, you can get one and install it by yourself for $20 + shipping.  
Why you want to buy from us?
•        Our Tour-Paks are stronger.
•        We only use 100% pure ABS material unlike other seller cut cost by mixing with black recycle material (Please check the interior of the trunk.)
•        We are are the first offering DOUBLE backrest.  
•        We have the thickest sidewall guarantee.
•        We have OEM Harley-Davidson Color
•        We offer more features than anyone else. (Top rack, Speakers, Rotating lock and more features are coming.)
•        We sell these tour-paks longer than anyone else on EBay
•        Lowest Price Guarantee (We now accept offers guarantee 5% lower than anyone else on the market)
This auction is one premium quality aftermarket tour pack for Harley Davidson motorcycle such as Road King, Electric Glide, Sportster, Softail and Fatboy.
We have Four colors available: Vivid Black, Fire engine Red (matching with 2004 fire-fighter Red,) Pearl White and Metallic Silver. Painted trunks are available for only $20 more. 
The outside dimension of the Tour-paks are:
22" length x17" Width x12" Height
The Tour Pak will be shipped in a factory package: 
Double Cushion Backrest, Mounting Hardware and Two key for locking the trunk.
We guarantee the quality of our product. If you not happy with it, you can return it for a refund in seven days (excluding shipping fee.)
Our Tour Paks are stronger so many of our customers buy our product and customize it for their Harley.
---
On May-09-05 at 16:56:20 PDT, seller added the following information:
Get reliable image hosting and storage services with Andale Images.
---
If you have a radio on your bike, please check out our speaker trunks so you can install two 4 inch speakers
in the back of your bike for surround sound.  Speaker tour paks are available for additional $30. Color Available in Vivid Black, Metallic Pearl White and Candy Apple Red.

Get reliable image hosting and storage services with Andale Images.

Powered by
The free listing tool. List your items fast and easy and manage your active items.
Recent Reviews
Recent Questions & Answers
What is your best price for this item?
Answer:
The lowest price I accepted including shipping
$114.00
Buy Now
PRIMER HONDA VTX 1800 1300 SHADOW MAGNA VALKYRIE TRUNK
$114.00
Shipping Included