Item Description
Large Undecorated Diaper Basket Great Alternative to Diaper Cakes!
Th is truly unique diaper basket gift is sure to please any new or expectant mom. This Diaper Basket is made from HUGGIES size one diapers, and the diapers are completely usable. This basket is from the same concept as a diaper cake with a few extra-added bonuses. This unique basket allows you to add your own personal touches and presents - all the while providing a practical, beautiful, and truly unique gift.

***Your Undecorated Basket Will Arrive with out any organza ribbon, your basket will look like the first picture in the curling ribbon color of your choice, the long ends of the curling ribbon will remain on the basket it is up to you to either curl or cut the ends of the ribbon****

Please note that Huggies diapers do come with a design on the diaper that will show on the basket. (for reference, I have used Huggies for the pictures so that you can see how the design will look on the diaper.) If you prefer a completely white diaper, please request Pamper diapers to be used. I do NOT keep pampers in stock and it WILL take up to TWO business days for this item to be created. I also have no problem using the diaper of your choice if you are not a Huggies fan. I appreciate that people prefer different diapers over others. All different diaper requests WILL take longer to process. – the diaper basket pictured uses Huggies Naturals with a design on the diaper!!

THIS IS FOR AN UNDECORATED DIAPER BASKET! YOU WILL ADD YOUR OWN RIBBON AND DECORATIONS!!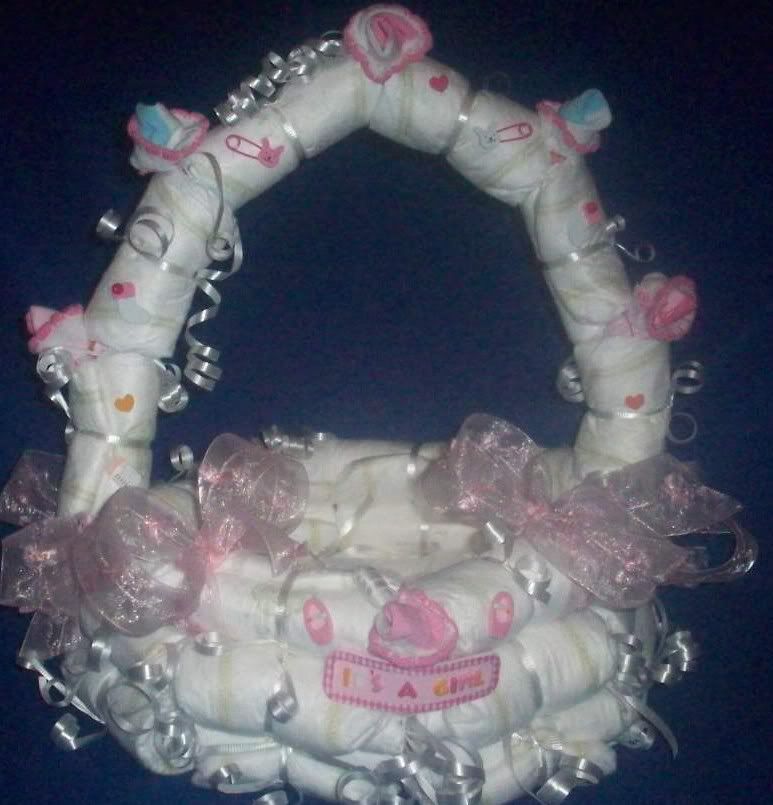 (Undecorated Diaper Basket - After it was transformed!)

Be cautious when purchasing a diaper basket or cake if the seller is unwilling to tell you what type of diaper is being used, if the diapers are usable, or if the creator uses glue, pins or other adhesives rending the diapers unusable.  

NO GLUE, NO ADHESIVES, PINS, NEEDLES, or other HARMFUL MATERIALS ARE USED TO CREATE A COLLECTIONS OF HAPPINESS DIAPER BASKET  

This is NOT a novelty item, this is a 100% usable, safe, sanitary baby gift!!  

Let me do all the hard work, and you add your own final additions!

This basket can be lifted by the handle.

There are over 40 Huggies Size One diapers total in this gift.

This is for one Undecorated diaper basket in the color of your choice
The most talked about gift at the shower
_____________________________________________
1. Are the diapers usable?

Yes, that is part of what makes this basket so truly wonderful. Not only are you giving a wonderful basket of goodies, but the basket its self is usable. No glue, no staples, no rubber bands, there is absolutely no reason that the new mom to be could not use these diapers (aside from the basket being to pretty to use!!) Unlike the other diaper baskets made from diapers that I have seen, my diapers are 100% baby safe, this is not a novelty item, it is a practical gift! Diapers are expensive, why give mom a gift that she can't use???  

2. How much will the basket hold?

This basket is given a strength test with several large and heavy gifts inside prior to being shipped. We recommend not putting anything over 9 lbs inside the basket.

3. What about shipping?

This item is wrapped secure in a box from the post office. I would be more then happy to ship this item as a gift item if you would like. We do not require that you purchase insurance, however, we do suggest it, that way if for ANY reason your package is damaged during the process of delivery - it will not be a problem to recover your loss as well as recover shipping.

IMPORTANT ABOUT SHIPPING: I have noticed a few baskets arriving with a bent handle. Unfortunately, the only real way to prevent this is by adding something to protect the handle during shipping. (Which will add weight to the diaper basket and increase shipping charges) Luckily enough the handles can easily be "re-shaped" upon delivery to you and this seems to be a more cost effective way of dealing with this issue.

4. This basket looks complicated, is it hard to get the diapers off to use them?

Not at all, this basket will easily come apart in a few simple snips. I wish I could give you more details as to how the diaper basket will come apart, but do to others trying to "snipe" my idea I am unable to at this time. If you purchase the item, and would like to know, I would be more the happy to discuss it with you then. :)

5. Do you pre-make the baskets?

No way - these diaper baskets are simply here to show you what they look like. At Collection of Happiness we take GREAT pride in our baskets. There is no way that we would ever sell you a basket that we have already made and stored away in either a basement or an attic (ewww spiders) The basket that you will receive will be hand-made at your time of purchase in a pet and smoke free environment! You will never get a basket that has been stored away until someone purchases it. Other people will try to win your business by telling you that they store the item securely, and that by pre-making the item allows them to ship the item quicker. However, we would never jeopardize safety, cleanliness, and sanitary issues to get this item to you one day faster! I make the diaper basket as soon as receiving a cleared payment, and the item is shipped out the door either the same day or the very next morning!! I would NEVER ship you ANYTHING that I wouldn't put on my own children!!!
That's my guarantee!

__________________________________________________
If you have other questions about this item please do not hesitate to ask. I will try to respond to your questions within one business day. Please feel free to ask any question that you may have. I would much rather answer the same question 10 different times, then to have one important question go unanswered.
 
Your basket will be shipped one BUSINESS day after cleared payment. I don't like waiting, I'm sure you don't either.
If you are an international buyer please note that the calculated shipping method is for standard first class shipping. Which could take up to 20 days for arrival. I am not responsible for duties or taxes that will need to be paid for at customs. I do charge a $2.oo USD handling charge for international shipping only!! This is due to the fact that the postage MUST be printed by the post office, as I am unable to print postage at home for first class international.

Canada buyers please note that items arriving from the United States under $20.oo typically are not charged any additional fees at customs.

Currently we are only able to accept PayPal for payment. I am in the process of being able to accept credit cards.

This is for one undecorated basket only. These pictures are only examples and are not the basket you are bidding on. Every basket is custom made to order.

Please be sure to send me an email regarding what color curling ribbon you would like!

Currently I have
pink
light blue
dark blue
red
yellow
white
green
purple  

If color choice is not included your diaper basket will be made with white ribbon to avoid a delay in shipments!

BECAUSE OF THE SENSITIVITY OF THIS ITEM WE ARE UNABLE TO ACCEPT A RETURN UNLESS THE ITEM IS UNOPENED AND IN THE ORIGINAL POST OFFICE BOX!  
FreeAuctionDesigns.com ~ Free Auction Template Designs & More!


---
On Oct-25-09 at 09:08:54 PDT, seller added the following information:

: Track Twitters for buyers discussing items you sell!